Summer is coming to a close and the kids are heading back to school, but that doesn't mean the fun is over in Hocking Hills. Labor Day weekend is a great time to take one last summer getaway, and where better to go than Ohio's Scenic Wonderland? The end of summer is one of the most beautiful times in southeast Ohio—the weather is warm, the trees are lush and green, and you can always spy abundant wildlife in Hocking Hills State Park. Whether you come as a couple, a family, or even a large group, there are plenty of ways you can enjoy Labor Day in Hocking Hills.
Ohio is famous for its colorful displays of spring wildflowers, but September brings its own botanical beauty. Hikers in Hocking Hills State Park can find large sunflowers, Jerusalem artichoke flowers, and a few varieties of goldenrod. The park is also home to many unique species of ferns. Don't forget to bring your bathing suit to the park: the swimming pool is only open through Labor Day, so this is your last chance to plan an afternoon swimming and picnic adventure.
One of the region's top attractions at this time is the Canal Winchester's Annual Labor Day Festival. The program features a parade, a car show, performances by local musicians, rides, food vendors, and more. Beginning in 1920, this is the town's longest running event, and today the festival attracts more than 30,000 people every year. Want more entertainment? Labor Day weekend is a perfect opportunity to catch the final performances of Stuart's Opera House's free summer concerts in the park series in Nelsonville, and also to pack some blankets and snacks and head to Lancaster for a family-friendly movie under the stars.
Maybe you need a little downtime before the school year starts and the fall busyness sets in. If so, picture this: relaxing with your family in a cabin, watching the sun go down over Hocking Hills, and star-gazing from your own private outdoor hot tub.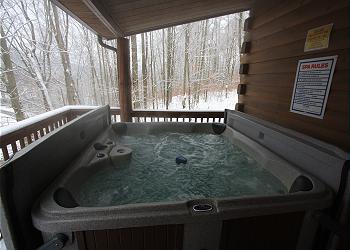 This year, don't just let summer fade away. Celebrate by planning a Labor Day weekend getaway to Hocking Hills. Check out our Specials page for discounts and weekend packages that will make your trip a memorable one.
Photo Credits: "Lower Falls Stairs II" by Yprahs [CC-BY-SA-3.0]; "Helianthus Tuberosus" by Christian Fischer [CC-BY-SA-3.0], via Wikimedia Commons