Are you a nature lover? A thrill seeker? An antiquing aficionado? Does your perfect weekend involve spending your days on the hiking trails and your evenings relaxing in a hot tub overlooking Ohio's most beautiful vistas? Maybe you prefer curling up with a book in front of a gas fireplace while the kids play in the game room or the pool? Whatever your pleasure, you will find what you are looking for in one of our fully appointed cabin rentals. Winter, spring, summer, or fall,  Hocking Hills is the perfect place for a couple's getaway, a sports and adventure weekend, or a family vacation.
Explore our top Hocking Hills Cabin Rentals to find your ideal retreat, and call today or book online to reserve your spot in southeast Ohio's small piece of paradise.
Cabin Rentals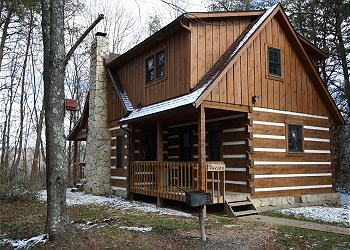 Picture spending the day fishing on Lake Logan or hiking through Hocking Hills State Park, then escape to your own private cabin in the woods. Because of its secluded location and rustic log construction, Alpine is one of our most popular cabins for nature lovers seeking some much-needed time away from the bustle of modern life. You will feel like the king (or queen) of the forest as you slip out of your own private hot tub and into your local handmade log bed.
Bedrooms: 2
Bathrooms: 2
Sleeps: 4
Price: $139-249

Traveling with friends or your extended family? With two enclosed bedrooms and a loft, Aspen provides plenty of space where you can enjoy one another's company and also where you can grab some alone time. This cabin is perfect for spending your evenings drinking hot chocolate on the front porch swing or playing cards in front of the wood-burning fireplace. You can even bring the dog.
Bedrooms: 2
Bathrooms: 2
Sleeps: 6
Price: $169-299

Cozy is the only word to describe this secluded cabin. There is no phone, and cell reception can be spotty, so leave your devices at home, grab some firewood for your wood-burning fireplace, and take the opportunity to rekindle your romance. For an extra special treat, book a couple's massage at one of the spas in nearby Logan.
Bedrooms: 2
Bathrooms: 1
Sleeps: 4
Price: $149-229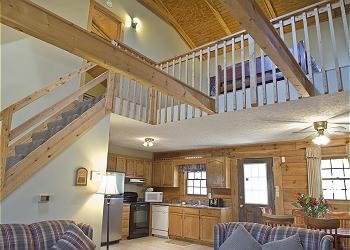 Make it a girls' or guys' weekend at this cabin that has been set up for maximum fun, including a new games room with foosball and air hockey tables. While waiting your turn, take a soak in the five-person hot tub or hit the Rocky Boots Outlet Store to prepare for your next day's hiking adventure. Then grab a couple of steaks and hold the ultimate BBQ cookoff on your large deck.
Bedrooms: 2
Bathrooms: 2
Sleeps: 10
Price: $199-499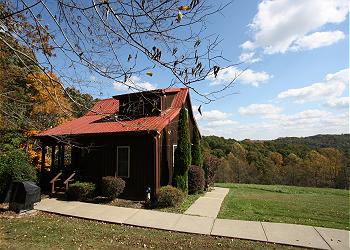 This cozy hilltop cabin has recently been updated with new amenities and decor. Featuring covered porches, a gas fireplace, and a hot tub, it is a wonderful place to spend a weekend or a week. When the sun goes down, tell stories around the shared outdoor fire pit with your new friends from the neighboring Deer Run cabin and Big Sky Lodge.
Bedrooms: 2
Bathrooms: 2
Sleeps: 6
Price: $169-299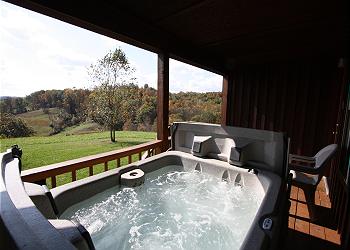 Your private hot tub awaits! You could spend the day golfing, shopping, and visiting the nearby state parks, but in order to do that you'd have to leave the hot tub. With amazing views in all seasons, this romantic bungalow is an ideal place for couples who want to feel like the only two people in the world.
Bedrooms: 2
Bathrooms: 2
Sleeps: 6
Price: $169-299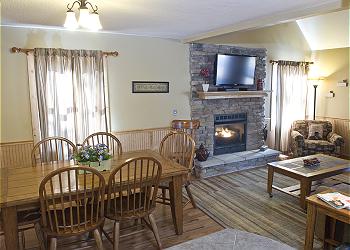 Newly remodeled with a screened porch, and outdoor fire pit, a hot tub, and a gas fireplace, this two-story cabin is a favorite among families and people traveling in groups. Use Hawk's Peak as your home base for hiking, skiing, ziplining, and the many other attractions that make Hocking Hills a prime vacation destination.
Bedrooms: 2
Bathrooms: 2
Sleeps: 6
Price: $169-359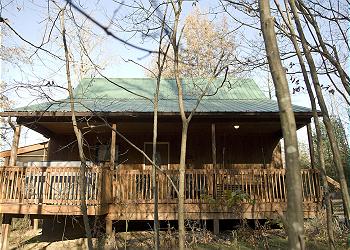 Leave the kids at home and rediscover you passion at this couple's retreat, fully equipped with a two-person shower, luxurious bedding, gourmet kitchen, gas log fireplace, and private hot tub.
Bedrooms: 2
Bathrooms: 2
Sleeps: 4
Price: $259-299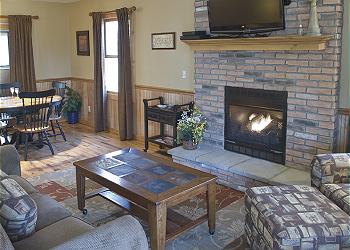 The name says it all: this is a couple's paradise. Surprise your partner with a weekend in this Hocking Hills cabin, where you will find a custom shower built for two, pillowtop mattresses with Egyptian cotton sheets, candles, and everything else you need for a romantic escape.
Bedrooms: 2
Bathrooms: 2
Sleeps: 4
Price: $259-299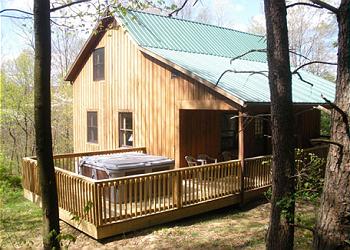 Three words: games, games, games. This tucked-away cabin has just been retrofitted with a new hot tub, an 8-foot slate pool table, and a new air hockey table. Perfect for family vacations and weekend retreats, as there are ample sources of amusement for those who crave excitement as well as those who just want to take a walk in the woods.
Bedrooms: 2
Bathrooms: 2
Sleeps: 6
Price: $199-399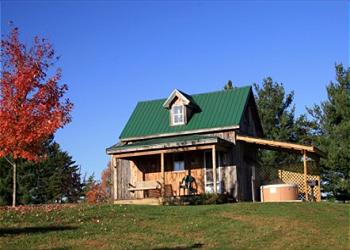 The Love Shak is a small romantic cottage perfectly suited for two. With a kitchenette, gas fireplace, and a private hot tub, this cottage is made for couples who want to leave their worries behind and just enjoy some time together. Take a walk in the woods, head into town to explore the area's natural history, or just relax in this private oasis.
Bedrooms: 1
Bathrooms: 1
Sleeps: 2
Price: $129-189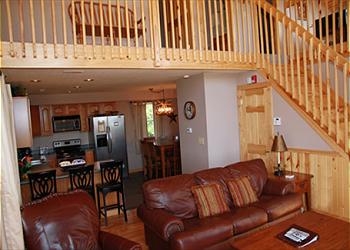 Pack up the whole family (dogs and cats included) for a vacation or even a reunion in Hocking Hills. This bungalow, which has all of the comforts of home plus a foosball table, is a great place to spend quality time with the kids or get to know your extended family a little better. If you rent this cabin, you can get a special rate on adjoining the property The Love Shak, so invite the cousins as well.
Bedrooms: 3
Bathrooms: 2
Sleeps: 8
Price: $170-499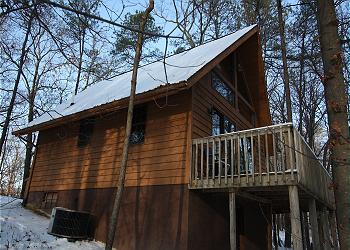 Get close to nature in this loft bungalow. Ideal for couples and small families, this secluded cabin features wood floors, a hot tub, a wood-burning fireplace, and a ladder-accessible loft. the porch is an excellent place to enjoy your morning coffee in any season, and the cabin is located near the region's world class ziplines, boating lakes, and state parks.
Bedrooms: 2
Bathrooms: 1
Sleeps: 4
Price: $149-239

Look down on some of southeast Ohio's most awesome views from this romantic one-story bungalow perched atop a hill. With its wooded location, private hot tub, and fireplace, this is the ultimate cabin for a weekend getaway with your loved one. For a romantic dinner, eat at one of South Bloomingville's popular restaurants or cook a private feast on Timber Ridge's charcoal grill.
Bedrooms: 2
Bathrooms: 2
Sleeps: 4
Price: $159-249

Zipliners rejoice! Now after a day of flying among the treetops, you and your friends and family can spend the night relaxing in a gorgeous log cabin with all of the amenities: wood-burning fireplace, private six-person hot tub, and of course satellite television. Bring the family pet and enjoy a weekend advenure in Hocking Hills.
Bedrooms: 3
Bathrooms: 2
Sleeps: 4
Price: $199-499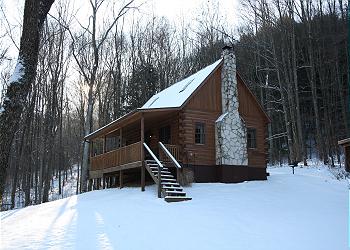 There's privacy and then there's privacy. At this super secluded cabin, you really can get away from it all. Toss dinner on the BBQ and later avail yourself of the private hot tub before crawling into a handmade log bed. If you feel like a little company, you can pop down to the shared pool or take the kids to the nearby playground.
Bedrooms: 2
Bathrooms: 2
Sleeps: 4
Price: $159-249

If you like to wake up in the morning with sunlight streaming through the window, this is place for you. This secluded log home has natural light in spades, so enjoy your coffee on the front deck and then spend the rest of the day searching for that perfect sunny spot for napping. After waking up refreshed, visit the nearby flea market or antique mall to hunt for local treasures.
Bedrooms: 2
Bathrooms: 2
Sleeps: 4
Price: $159-249

Traveling with a larger group can be a challenge, but this two-story bungalow has room for the whole gang (most important, there are two full baths). With ziplines, horseback riding, putt putt golf, and other recreational activities nearby, there are plenty of amusements to keep everyone entertained. Don't miss the local farmers market and historical sites!
Bedrooms: 3
Bathrooms: 2
Sleeps: 10
Price: $199-499

Hocking Hills is beautiful in any season, and this bungalow, perched over a year-round stream, is an ideal place to enjoy the natural wonders around you. Slopeside is excellent for couples or small families looking for a rustic wooded location close to the area's many state parks. It is also in easy distance of ziplines, boating lakes, and all of the local services.
Bedrooms: 2
Bathrooms: 1
Sleeps: 4
Price: $149-249

Romance is always in the air at Cross Creek. Although world class state parks and ziplines are within easy access of this Hocking Hills cabin, you might be tempted to snuggle up on the porch swing overlooking a year-round stream or in front of the fireplace. In winter, when a blanket of snow covers the area, this is the perfect place for a couple's staycation.
Bedrooms: 2
Bathrooms: 1
Sleeps: 4
Price: $149-249
Lodges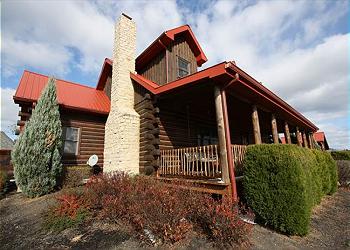 Planning a family reunion? Make Big Sky Lodge your central gathering point. This large log home has everything you need to make your retreat a success, including a large living room and kitchen, and your own private swimming pool. If you need to accommodate more people, the Deer Run and Coyote cabins are located close by and share an outdoor fire pit with Big Sky.
Bedrooms: 5
Bathrooms: 2.5
Sleeps: 14
Price: $409-929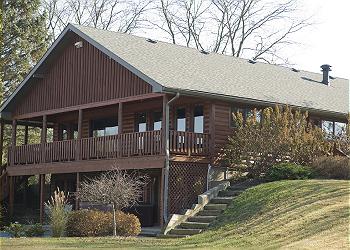 Grand Butte Lodge is our premier vacation rental, perfect for family reunions, friends getaways, small business retreats, and more. The lodge has a large yard for activities, and just this year we added a seasonal pool. With two great rooms, a large kitchen, and a wet bar, Grand Butte can accommodate parties of all sizes. It is also conveniently located close to all of the Hocking Hills attractions.
Bedrooms: 7
Bathrooms: 3.5
Sleeps: 20
Price: $409-989
Hocking Hills cabins are fabulous places for couples, families, and friends to spend some time just enjoying life. Plan your next getaway today.